Description
36V 15Ah Seat Tube Battery Electric Bike Li-ion Battery for MiFa, Rex, Prophete, Aldi


1.Technical Data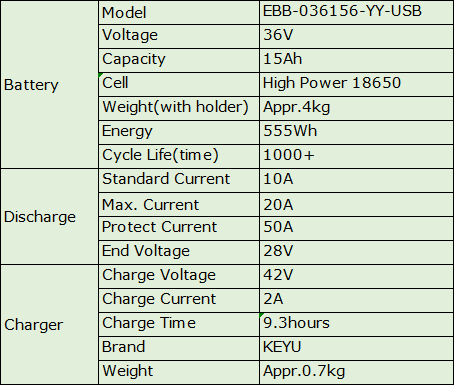 2.Packing list
battery x 1
charger x 1 
key x 2
discharge connector x1

3.Warm tips
*Please read the instruction manual carefully after received the package, this will help you to use the product effectively.
*Battery delivery cost much more than ordinary goods, in order to reduce the return shipping cost, please make sure: battery and motor should have the same voltage.e.g. 36V10AH vs 36V350W.
*If you want to return the product, please return the complete product as soon as possible and ensure the product has not been used and don't affecting secondary sales.

4.Important notice for recycling of used batteries
*As a professional battery distributor, we strictly abide by local laws and regulations to ensure battery quality, transportation and storage safety, environmental protection.
*According to the battery regulation, batteries must not be disposed of with household ordinary waste. 
*Consumers are obliged to dispose of the used batteries to the professional recycling agency for proper disposal. They must not be arbitrarily throw into the trash. Please protect the environment! 
5.Copyright Statement:
All the contents including words, pictures and videos are original made by YOSE POWER.
It is not allowed to plagiarize without permission or we keep the right to pursue legal responsibility.
Sitzrohrakku
Preis - Leistung sehr gut. Schade dass keine Retour Meldung betreffend Mehrwertsteuer - Rückerstattung erfolgt ist.
36V 15Ah Seat Tube Battery
15AH battery
This battery is very good. I do a 24 mile commute, 85kg, PAS level 5 all the way including terrible hills. The voltage drops from 42 to about 36 so there is still probably another 5-10 miles left. I then recharge at work for the home commute. Have had the battery now for 3 weeks and works reliably so far. Think real distance using full power is 30 miles max with good sized hills in south wales.
Seat Tube battery
The YosePower Seat Tube Battery is working very fine. I'm able to drive app.120km in a flat surrounding. The only problem was how to fix it at the seat tube: the socket did not directly fit on a Standard womens City bike. And how to mount the battery is not explained, so I had to use cable ties, not the best solution you see! It would be very helpful to have an offer how to fix the battery in different frames! Could be a small mountable platform or so! Some help is Welcome!
Payment & Security
Your payment information is processed securely. We do not store credit card details nor have access to your credit card information.