Description
36V12.5Ah E-Bike Lithium-ion Battery with Black Rear carrier Fit for 26"-28" bike with V-brake

1.Technical Data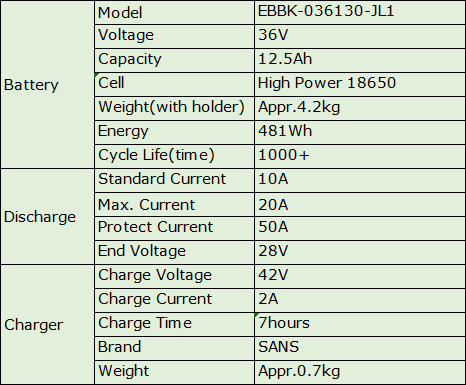 2.Packing list
battery x 1
charger x 1 
key x 2
discharge connector x1
carrier x1

3.Warm tips
*Please read the instruction manual carefully after received the package, this will help you to use the product effectively.
*Battery delivery cost much more than ordinary goods, in order to reduce the return shipping cost, please make sure: battery and motor should have the same voltage.e.g. 36V10AH vs 36V350W.
*If you want to return the product, please return the complete product as soon as possible and ensure the product has not been used and don't affecting secondary sales.

4.Important notice for recycling of used batteries
*As a professional battery distributor, we strictly abide by local laws and regulations to ensure battery quality, transportation and storage safety, environmental protection.
*According to the battery regulation, batteries must not be disposed of with household ordinary waste. 
*Consumers are obliged to dispose of the used batteries to the professional recycling agency for proper disposal. They must not be arbitrarily throw into the trash. Please protect the environment! 
5.Copyright Statement:
All the contents including words, pictures and videos are original made by YOSE POWER.
It is not allowed to plagiarize without permission or we keep the right to pursue legal responsibility.
Elcykel Batteri
Godt produkt, nem montering
Excited!
Very nice made Rear-Carrier; super price!
good bit of kit
The rack is a really good bit of it. Not difficult to fit on and is sturdy. Very happy I got it over the frame mounted battery. The light is good as well.
The reasons for 4 stars as opposed to 5 is a couple of minor issues. Firstly that the space for the wires and controller needs to be bigger, or the controller needs to be smaller. And secondly I think there should be better indication of what to do about the rain and removing the battery.
So while the battery is connected there isn't an issue. But it doesn't seem like a good idea to leave the battery off while it's in the rain. And even with the lock on the battery I am realistic I would not want to necessarily leave the battery on the bike if it's going out of my sight for any amount of time.
So it would have been cool if it came with a bit of plas
tic that could clip in and cap it off protecting the connectors from the elements or something like that.
Great e-bike battery and rear luggage carrier solution
I purchased this battery and carrier in combination with the 250W front motor kit. It was relatively easy to install and the end result looks as if the bike came from the factory like this. There is just sufficient room in the front compartment to hide the e-bike controller and excess wiring. The lock operates easy and my impression is that the rack and battery are very sturdy indeed. The LED tail lamp is operated by a separate on/off button and looks sharp. I am very impressed and very happy with the end result! Let's hope that the durability is equally impressive of course; we'll see, but judging from the quality experience so far I am not worried at all. I have actually posted some videos to give a (fun) impression of the installation process, if you want to check. All in all I am extremely satisfied with this battery and e-bike kit combination and will warmly recommend it.
Unboxing https://youtu.be/95KeKW_hoSI
Installation https://youtu.be/xdeYRMMDveE
Completion https://youtu.be/ezRtge5OhBM
Take care!
Payment & Security
Your payment information is processed securely. We do not store credit card details nor have access to your credit card information.