Description
Original Cell 36V15Ah/48V12.5Ah Down Tube Battery Lithium-ion Battery Electric Bicycle Bottle New Black DIY


1.Technical Data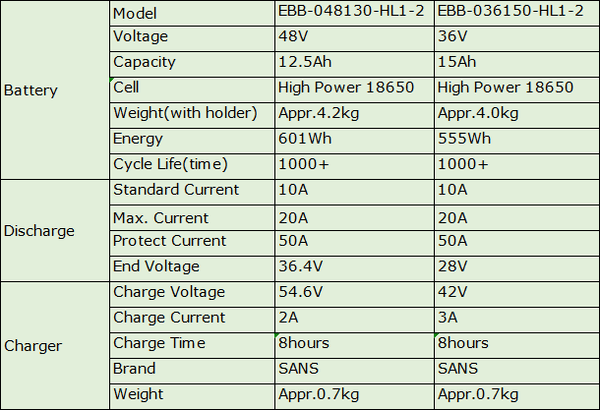 2.Packing list
battery x 1
charger x 1 
key x 2
discharge connector x1

3.Warm tips
*Please read the instruction manual carefully after received the package, this will help you to use the product effectively.
*Battery delivery cost much more than ordinary goods, in order to reduce the return shipping cost, please make sure: battery and motor should have the same voltage.e.g. 36V10AH vs 36V350W.
*If you want to return the product, please return the complete product as soon as possible and ensure the product has not been used and don't affecting secondary sales.

4.Important notice for recycling of used batteries
*As a professional battery distributor, we strictly abide by local laws and regulations to ensure battery quality, transportation and storage safety, environmental protection.
*According to the battery regulation, batteries must not be disposed of with household ordinary waste. 
*Consumers are obliged to dispose of the used batteries to the professional recycling agency for proper disposal. They must not be arbitrarily throw into the trash. Please protect the environment! 
5.Copyright Statement:
All the contents including words, pictures and videos are original made by YOSE POWER.
It is not allowed to plagiarize without permission or we keep the right to pursue legal responsibility.
36V15Ah/48V12.5Ah Down Tube Battery
Tube Battery 48v
Top gerne wieder 👍👍👍
Thanks
Super Service und Material
Satisfied, but!!
This is an excellent product, well worth the price especially if you look at pre-made ebikes on the market.
However: this brake handles weren't compatible with some brakes I bought for the back wheel
Payment & Security
Your payment information is processed securely. We do not store credit card details nor have access to your credit card information.