Description
Hub Motor 36V350W 26" / 27.5" / 28" Rear Motor Bicycle E-Bike Hub Conversion Kit Silver DIY E-bike LCD Display
*18 months warranty for motor, 12 months warranty for other parts.
*10 years professional sales team will provide the most efficient service.
*Contact us to start enjoy DIY your bike to be a high quality low price electric bike

1.Technical Data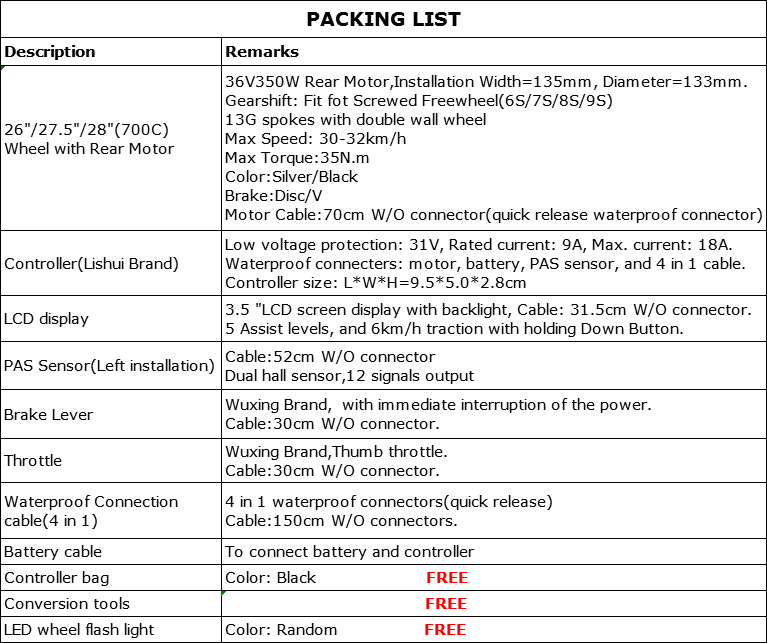 2. Packing list
refer to above technical date

3. Warm tips
*Please read the installation instructions carefully before you start, this instruction will help you to install the product effectively.
*36V battery(Li, lead-acid, NiMH battery etc.) is compatible with this motor.
*IMPORTANT NOTE:Please set the maximum driving speed of the e-bike according to the local traffic laws to prevent the safety risks caused by excessive speed!
*If you have any question, please contact us.
 4. Important notice for recycling of used batteries& motor kits
*As a professional seller, we strictly abide by local laws and regulations to ensure product's quality, transportation and storage safety, environmental protection.           
*According to electronic consumer goods recycling regulations, batteries and motor kits  must not be disposed of with household ordinary waste.
*Consumers are obliged to dispose of the used electronic goods to the professional recycling agency in local for proper disposal. They must not be arbitrarily throw into the trash. Please protect the environment!
5. Copyright Statement:
*All the contents including words, pictures and videos are original made by YOSE POWER.
*It is not allowed to plagiarize without permission or we keep the right to pursue legal responsibility.
36V 350W 26" / 27.5" / 28" Rear Motor Kit for Freewheel
It puts a smile back in cycling
I've already fitted the front wheel conversion to my other bike. But this one exceeded my expectations. The weight distribution is much better and the bike feels more stable. I did experience difficulty with fixing the crank sensor but with a little application of plastic padding all is well .
36V 350W 26" / 27.5" / 28" Rear Motor Kit for Freewheel
ottimo kit, facile da montare e completo di tutto, davvero soddisfatto! spedizione internazionale verso l'italia consegnata in 3 giorni
36V 350W 26" / 27.5" / 28" Rear Motor Kit for Freewheel
Great product but...
Excellent product except the PAS sensor. The old versions were better, more protected in case of accidental impact with the foot.
Payment & Security
Your payment information is processed securely. We do not store credit card details nor have access to your credit card information.