Description
36V 12.5Ah Down Tube Battery Lithium-ion Battery Electric Bicycle Bottle New Black DIY for Mifa,Vaun,  Prophete


1.Technical Data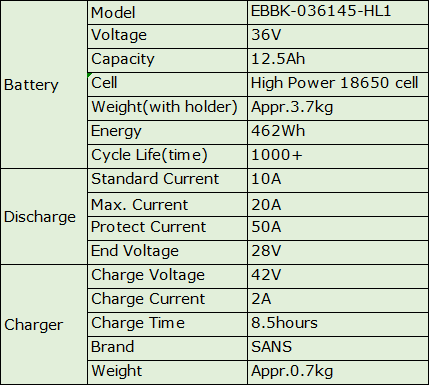 2.Packing list
battery x 1
charger x 1 
key x 2
discharge connector x1

3.Warm tips
*Please read the instruction manual carefully after received the package, this will help you to use the product effectively.
*Battery delivery cost much more than ordinary goods, in order to reduce the return shipping cost, please make sure: battery and motor should have the same voltage.e.g. 36V10AH vs 36V350W.
*If you want to return the product, please return the complete product as soon as possible and ensure the product has not been used and don't affecting secondary sales.

4.Important notice for recycling of used batteries
*As a professional battery distributor, we strictly abide by local laws and regulations to ensure battery quality, transportation and storage safety, environmental protection.
*According to the battery regulation, batteries must not be disposed of with household ordinary waste. 
*Consumers are obliged to dispose of the used batteries to the professional recycling agency for proper disposal. They must not be arbitrarily throw into the trash. Please protect the environment! 
5.Copyright Statement:
All the contents including words, pictures and videos are original made by YOSE POWER.
It is not allowed to plagiarize without permission or we keep the right to pursue legal responsibility.
Erwartungen erfüllt.
Komme mit dem Akku, in Kombination mit dem 36w Vorderradkit, auf eine sehr gute Reichweite.
Wenn es eine Kleinigkeit zur Verbesserung gibt, dann, dass man vielleicht direkt optional eine Lösung zum befestigen des Akkuhalter anbieten könnte. Bei mir sitzen die beiden Gewinde des Flaschenalter so tief, dass ich davon nur das obere Gewinde nutzen kann. Zur Abhilfe habe ich einen passend gekürzten Nagel, der Länge nach in die anderen beiden Schrauböffnungen des Akkuhalter auf die Unterlegscheiben geklemmt und da dann Kabelbinder durchgezogen. Vielleicht hat das Yose Team ja Interesse daran, zukünftig direkt eine Adapterlösung dafür optional anzubieten, da dieses "Problem" wohl häufiger vorkommt. Ist als reine Anregung gemeint und soll keine negative Kritik darstellen. Yose kann ja nichts für die Position meines Flaschenhalter.
Service
The battery is broken can you repear give me your adress for return.
Please don't worry. We have sent an email to you.
I have Not Achieved to Set the Settings
To get the most power out of the motor
Good Price Great Service
Good quality battery and charger. Delivered in 4 days from Germany, which is probably quicker than I could buy in the UK.
Tech support is superb, got answer to a couple of queries within 24 hours.
I would recommend the 36v 350w rear motor I bought at the same time as well!
Delivey on time
Great purchase, delivery on time, and safe! Would recommend this website for sure.
Payment & Security
Your payment information is processed securely. We do not store credit card details nor have access to your credit card information.